There's nothing a dog loves more than to munch on a delicious and moist bowl of wet dog food! As a dedicated dog owner, it is your responsibility to make sure you're feeding your dog from only the best wet dog food to keep them healthy and in top shape!
With the long choice of brands, ingredients and tastes of wet dog foods, it can be hard for owners to decide on the ideal choice for their pet. Here's a list of the top 5 best dog food brands in the UK!
5. Natures Menu Choice Pouch
Considered one of the highest rated and more popular wet dog foods, Natures Menu Choice Pouch is entirely locally and ethically sourced from natural ingredients, including vegetables and human-grade meats. This vet-approved wet dog food is free from artificial additives and colors, and provides a healthy and complete diet for your pups.  The food comes in 300g meal pouches in a range of delicious flavors, and acts as the perfect mouth-watering meal for adult dogs and puppies over the age of 20 weeks old.
Wellness Complete Health dog food is the ideal choice for owners looking for natural wet dog food that is high in a range of nutrients and natural supplements to keep your dog in top shape! The food is available in a variety of flavors and in different formulas for dogs of all age groups, from puppies to seniors. This complete and balanced meal contains minerals and vitamins for a healthy immune system, high quality nutrients to give your dog a boost of energy and omega fatty acids for healthier skin and coats.
This food offers a full and balanced meal made of the most nutritious ingredients. Comprising of cage-free boneless and skinless white meat chicken, the food is grain-free as well as gluten and GMO-free. The food is rich in top quality protein and vitamins to give your dog the best health benefits.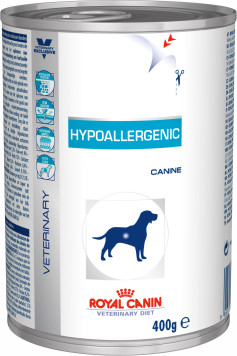 Coming in a range of formulas, this Royal Canine wet food is recommended by vets as it provides essential health benefits in different forms depending on the formula you choose. In it's variety of options, you can choose between Hypoallergenic, Hepatic, Gastro Intestinal, Renal, Diabetic formulas and more, offering your dog the specific nutrients and help it needs to be healthy. Each formula contains a specific blend of minerals, vitamins and ingredients especially made for your dog's individual case.
Made from 100% natural ingredients, this wet dog food is among the finest choice on the market. A great advantage point for this food is that it is made entirely from freshly prepared ingredients, including vegetables, rice, chickens, meats and more! This food is fulled to the brim with natural goodness, and is preservative free and contains no artificial flavors, coloring or meat substitutes. Also great for digestion, this food can be gently digested and is ideal for dogs suffering from sensitive digestion and allergies.