Are dogs allowed to travel on buses and trains in the UK? Can you bring your canine friend along with you on the underground services?
Here's everything you need to know about taking your dogs on public transport in the UK, plus some essential tips to keep in mind!
Dog Friendly – Everywhere!
Whether you're a UK resident, or planning to visit the country along with your pet, it's important to know how exactly you can move around with your companion by your side.
Lucky for dog owners, your four-legged friends are more than welcome on many of the UK's local public transport services, including those that run between England, Northern Ireland, Scotland and Wales.
Buses and Trains
Generally, trains allow up to two dogs per passenger to get on board as long as they are on a leash or in carriers. Dogs can get on trains for free, however if they take up a passenger seat you'll have to buy them their own ticket! Sleeper cabins and restaurant carriages may also charge fees, however for the full list of regulations make sure to check the National Rail website.
Since UK buses are often operated by different companies, rules about whether or not your dogs are permitted onto the vehicle may differ. Checking with individual operators before booking your trips or getting on a bus is essential for travelers moving around with their canines. In most in-city bus transport, however, dogs should be allowed on as long as they are properly leashed or carried in a carrier. Fees may apply for dogs depending on the different operators.
The Tube
Canines can travel for free on London's underground services as long as they are leashed. However, they must take the lifts or be carried on the escalators. Assistance dogs can be exempt from this if they carry a valid pass which proves that they have received the proper training for using escalators.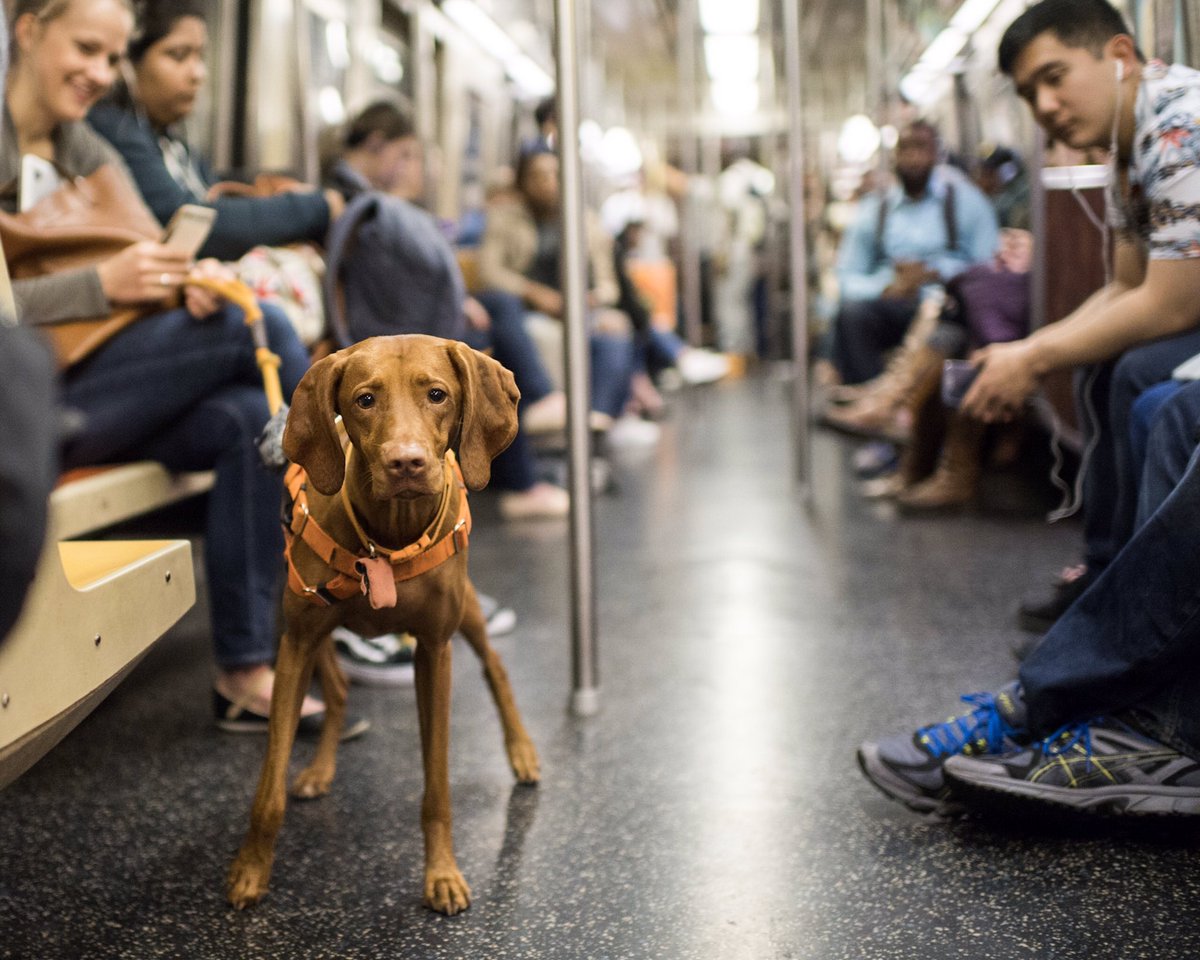 Tips for Taking Dogs On Public Transport
Whether you'll be travelling with your pup using trains, buses or underground tubes, here's some essential tips for making your journeys easier and hassle-free!
Keep your dog on a leash. Even if Fido is well behaved, most public transport services require dogs to be leashed for their own safety as well as the safety of other passengers.
Make sure they're calm and relaxed. The last thing you want is for your dog to be worked up or panicked when travelling. Take your dog for a walk beforehand to exert all their energy, and give them constant reassurance if it's their first time being on crowded transport.
Don't travel for long. Avoiding long hours of travel, if possible, is recommended for travelers with pets. Your dog will not only get tired, but will likely also need to use the toilet, eat, or drink water. A break is always recommended in between travelling to allow your dog to recuperate.
Always carry water and treats. Fresh water and handful of snacks can come in handy when moving around with your pet!