Inspired by their very own pooches, the founders of Scrufts wanted to create a brand that truly spoke to the fun-loving nature and lively souls of their dogs, and what better way to do this than with a touch of bright colors and unusual texture! Dedicated to creating products that exude a unique aura of vibrant energy, Scrufts create special handmade collars and leads that are instantly recognizable with their exuberant designs!
About Scrufts
Launching in 2008 and then growing to become a nation-wide brand, Scrufts began from a humble home and an owner that loved to create collars for her own pups. Noticing that manufactures paid little attention to the texture, color and detail of a color of collars and leads, the founders decided to launch their own brand and create the products they wished to see in the world (or in pet shops!) With time, the passion and skill for designing and manufacturing collars grew along with the brand, due to its unique and identifiable colors and designs that individualize it from any other brand!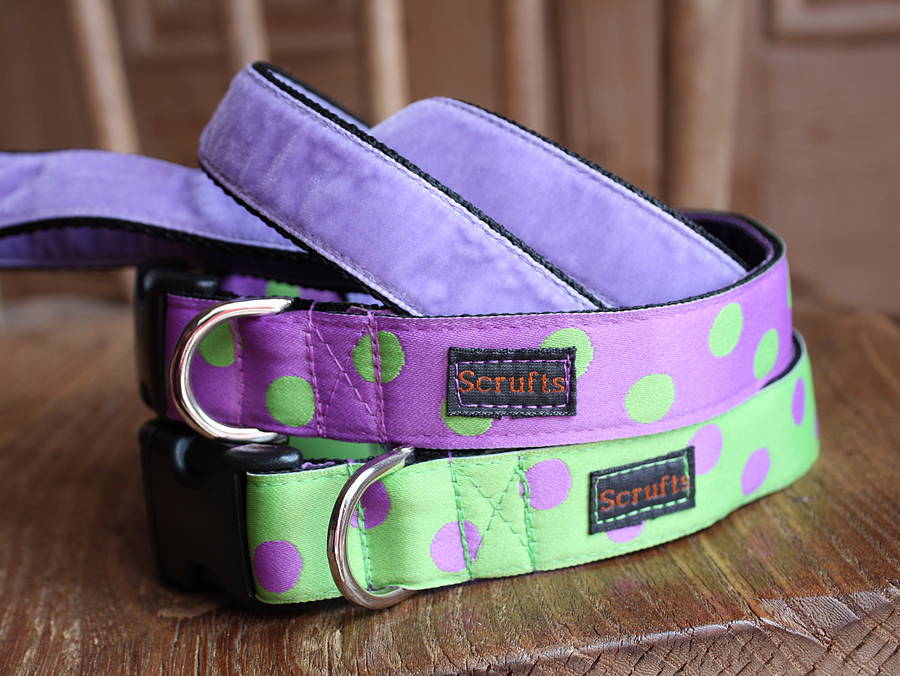 About their products
Using worldwide-sourced material of the highest quality and individuality in texture and color, all Scrufts products are hand-made with a dedication to create products that are a 'feast for the eyes' as well as comfortable and safe for your pups. Mainly concerned with the production of collars and leads, Scrufts' products are unique in their special designs that make any pooch look like the coolest dog on the block. From Harris Tweed collars made from the finest handwoven fabrics to classy Swiss Velvet collars, Scrufts utilize a range of different materials to make their products all the more luxurious and fabulous.
A wide selection of Scrufts products can be found at our store here.
Collars and Leads Sets
As their most famous products, Scrufts' collars and leads set emanate a uniqueness and liveliness like no other products. Moreover, due to the range of materials used, each of their collars and leads are individual and like no other!
Sporting a vibrant array of pinks, purples, blues and more fun colors, this handmade collar and lead set by Scrufts is made from beautiful grosgrain ribbon sewn onto a high strength webbing core in toning colors. Fashionable and fun, the collar is also created for comfort and hard-wear, guaranteeing years of use. The collar and inner of the lead can be customized to either be lined with luxurious raspberry or purple velvet for extra comfort for your dog.
Emitting a cheery ambiance, this Whistable Striped dog collar by Scrufts carries the iconic colorful design found in many of their products. A fashion statement designed for comfort, this collar is lined with an especially comfy navy velvet lining to ensure your dog's satisfaction while wearing the product! Moreover, the collar also comes an exclusive heart-shaped tag to make it all the more adorable. The collar is fully adjustable and comes in a range of sizes, making sure it fits on all dogs!
Refusing to be constrained into creating basic collars and leads, Scrufts also created a range of bow ties and unique accessories to spice up your dog's look! This Cherry Blossom bow tie sports a unique vintage flower design on a pale blue background for a beautiful design. Lined with a bright pink velvet, the collar has a comfy feel and fits comfortable around your dog's neck. The collar comes in a range of sizes and is fully adjustable.
Looking for more Scrufts?
There are many more designs, colors and products, each unique with their own special touch! Check out Scrufts products here at our store, and choose from the large selection of beautiful collars, leads and dog accessories to individualize your dog and make them stand out!