Meet Oliver, the first justice support dog to help victims of crime in the UK.
Oliver offers comfort to fragile victims and witnesses of crime who have experienced traumatic events as they give evidence to police. The two year old Labrador Retriever is trained to sense when individuals are feeling upset or scared, and sits as a companion by their side, giving them 'unconditional support' and consolation during times of stress.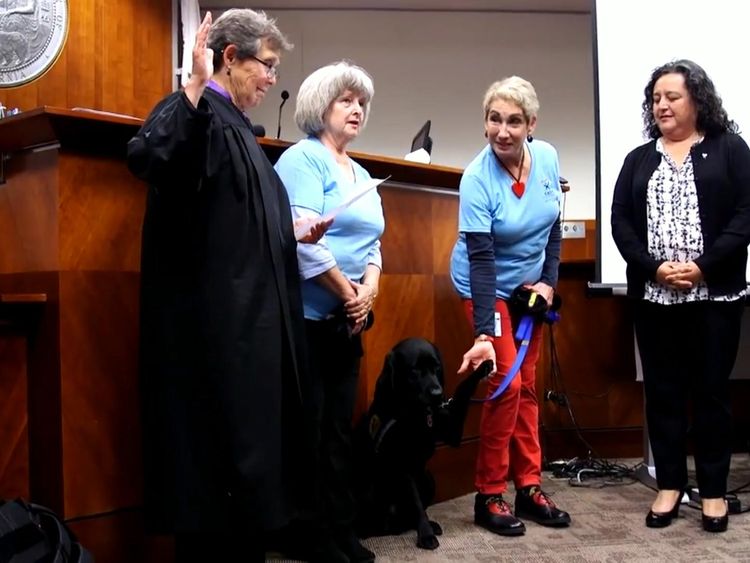 Oliver was donated by the US as part of a pilot project, and in September of 2018, The Canterbury Christ Church signed a petition with Kent Police to allow Oliver to begin working with victims in early December.
Dr Liz Spruin, a psychologist as well as Oliver's handler, works alongside a team of dedicated researchers taking part in this first scheme of its kind in Europe. They monitor and study how support dogs can be used within court environment to soothe witnesses and victims during interview and testimony.
Dr Spruin believes that what Oliver does is essential to all victims of trauma who have to give evidence and testimonies to complete strangers. She says that his presence and comfort 'provides the support to allow (victims) to tell (their) story.'
The use of justice support dogs is more common in parts of North America, with an estimated 200 dogs thought to be working in police stations and courthouses.
Witnesses agree on the importance of having a support dog during testimonies and interviews. Zach Rigler, 26, was recently asked to give evidence in court after witnessing a knife attack in London. Zach claims that it was "one of the most stressful experiences I've gone through in years."
Rigler agrees that having a facility dog by his side, even if merely in the waiting area, would have helped keep him calm and take his mind off his anxiety.
The Future of Justice Support Dogs
Although Oliver is not yet allowed to accompany victims into a court environment yet, the study hopes to prove the importance of having a comforting companion to make the experience of retelling traumatic events more bearable and easy to cope with.
The force expresses its desire to find "innovative ways" to care for the needs of victims and put their well-being first. Detective Superintendent Susie Harper said that the project will help in finding out how support dogs can help victims and witnesses by providing comfort to decrease their anxiety.
The researchers involved in this study predict that it could last as long as 7 years. If found to be successful, the study hopes that facility dogs like Oliver will become more common in police stations and courthouses across the UK.