Dedicated to providing proper, healthy and natural pet food for cats and dogs, Lily's Kitchen are on a mission to change the way pets eat and steer it into the right direction for their health and well-being! With their goal to provide pets a well balanced and nutritious diet, Lily's Kitchen use top ingredients within natural recipes that'll leave your pets satisfied and in top shape!
Visit our store and check out the range of Lily's Kitchen pet food available to change up your dog's diet and embark on the path of healthy eating!
About
Lily's Kitchen was named after – and created specifically for – a lovely border terrier named Lilly. After cooking their own homemade food for Lilly and nursing her into the health, her owners were driven to continue to provide proper and healthy food for all pets.
Believing in doing the right thing, Lily's Kitchen have multiple certificated and awards to authenticate the quality and health of their products! They are considered the UK's number one Ethical Pet Food Company, in addition to being the first and only pet food company certified as B Corporation!
Their diets are made from the most nutritious ingredients combined into the most delicious of recipes, including wholesome fruits and vegetables, and top grade produce from the best local farms.
Their Products
Producing natural healthy food for both cats and dogs, Lily's Kitchen offer a wide variety of foods to create a whole balanced diet for your pets! Here are some of their top products!
This delicious grain-free recipe is filled to the brim with wholesome nutrients to keep your dogs in top shape! Made using freshly prepared chicken and duck, healthy vegetables and herbs, the food is easy to digest and doesn't contain any dried meats, meat meals or artificial products!! This recipe contains prebiotics for healthy digestion, glucosamine and chondroitin to strengthen bones and joints as well as omega 3 and 6 which boost the quality of your dog's coat, heart, brain and joints! This food is suitable for adult and senior dogs as well as pups over the age of 4 months when fed alongside puppy food.
Puppy Free Run Chicken and Salmon Dry Food 7KG
Offering pups the healthiest kick-start to life, this grain-free contains many health-promoting ingredients such as salmon oil to condition coat and skin, glucosamine and chondroitin to strengthen growing joints and prebiotics for better digestion. A range of healthy herbs have also been added to build a healthy immune system. This food is for puppies up to 8-14 months old.
Organic Cheese and Apple Training Treats for Dogs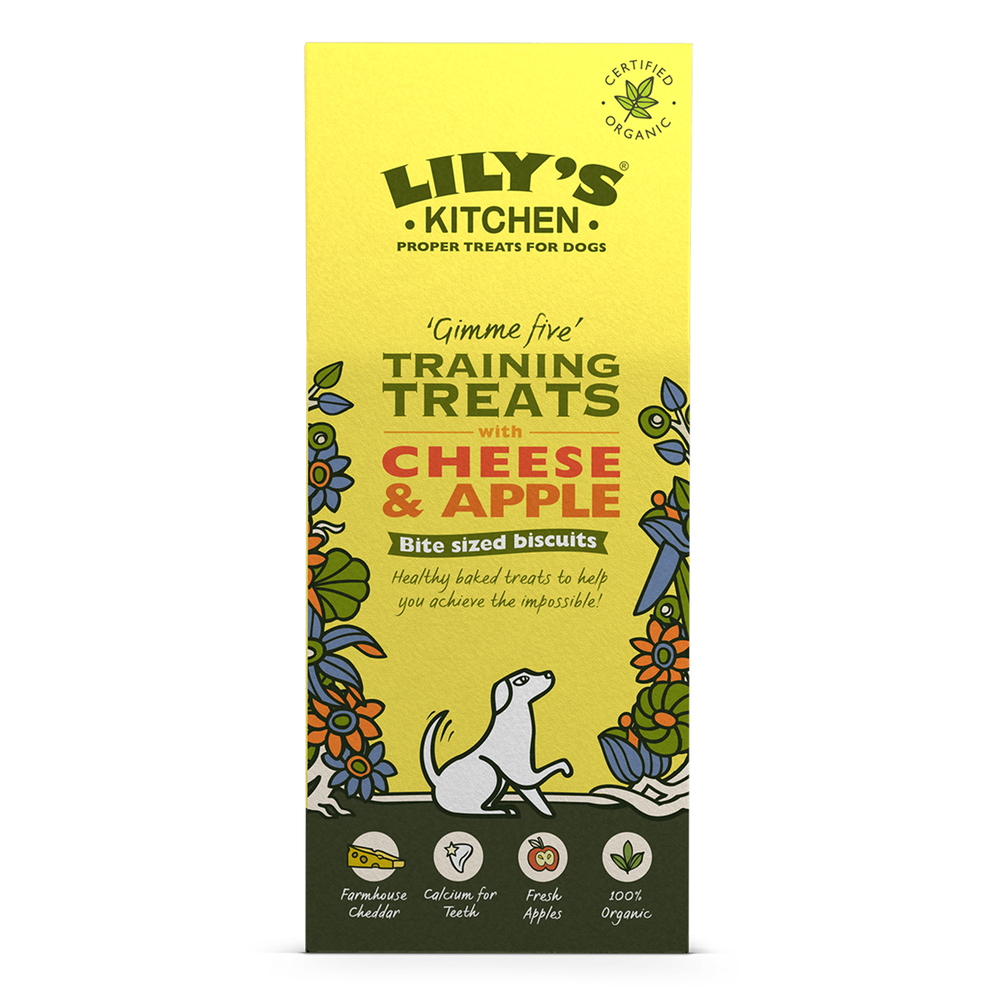 Ideal for training dogs, these delicious Forget-Me-Nots Cheese and Apple Treats are traditionally baked and made from fresh organic Russet apples and mature organic Farmhouse Cheddar. The recipe includes Vitamin C and and antioxidants in the form of Roseships. The recipe is 100% organic, and is made in partnership with the Battersea Home for Dogs and Cats, where 10p of every sale are donated to the organization to help pets in shelters.
Hungry for More?
Lily's Kitchen have a wide range of top grade dog food to help keep your dog in top shape! Check out their products at our store here!