What goes into your dog's diet should be every dog owner's highest concern, as the meals we feed our pets should provide them with the best nutrients to keep them healthy, satisfied and to better their quality of life. With many different dog food options to choose from, its easy for owners to be confused about the perfect type of food for their canine companion.
Comparing dog food brands, types and ingredients on the market helps owners fully understand what food options are the best for their dogs, and inform them how to appropriately incorporate each type of food to create a balanced and complete diet.
The two main types of dog food most commonly used by owners are dry dog food and wet dog food, both of which differ completely in quality, and each with their own advantages and drawbacks.
Dry Dog Food
Dry dog food, also known as Kibble, is considered the most convenient type for both feeding and storage. Due to dry nature of kibble, the food can be left out for hours without fear of going bad, and can be stored of a long period of time while still maintaining its freshness and quality. Dry dog food is most commonly used as the frequent meal option for dogs due to the high amount of nutrients it carries, as well its positive effects on dog digestive systems.
Here are some of the best dry dog food options on the market:
Price: £78.15 for 2kg
This CANIDAE chicken, turkey, lamp and fish meal is produced at the highest caliber with its nutritionally dense and multi-protein formula. Deriving its sources of nutrients from quality meat, fish, brown rice, peas and other healthy natural ingredients, this kibble is an optimum choice for dogs in all stages of life and aids in maintaining a healthy digestive system throughout. Supplements such as omega 3 and 6 oils are also added in order to give your pet a healthier skin and coat!
Price: £13.99 for 2kg
Named Best Dog Food UK in 2017 by the World Branding forum, this dry dog food is both affordable and extremely nutritious! Suitable for adult dogs of all breeds, this food is packed with high quality ingredients such as chicken, turkey, salmon and select vegetables, providing a healthy measure of Omega 3 and 6 oils to keep your dog's coat shiny and smooth. Natural prebiotics such as yucca and rubbed herbs are also added to promote the stabilization of healthy bacteria.
Royal Canin Size Healthy Nutrition Medium Adult
Price: £36.03 / kg
Suitable for dogs over the age of 12 months old, this high quality dog food is ideal for medium-sized dogs that require large bouts of energy! Royal Canin supports your dog's immune and digestive systems, while giving them a fully nutritious meal. With its main ingredients being chicken by products and corn-gluten meal, as well as vitamin supplements as vitamins B12 and D3, this kibble is guaranteed to keep your dog at top health throughout their adult life.
Canned Dog Food
Higher in protein and fat then kibble and tastier for your dog, canned dog food can seem to be your dog's preferable choice over dry food. However, it is not recommended to feed your dog canned food for all of their daily meals, as due to the moisture and wetness of the food, digestive issues such as diarrhea are likely to occur. Moreover, dental issues could easily arise with this soft food. Choosing a high caliber wet dog food option is essential for your dog's diet.
Here are some of the best canned dog food brands on the market: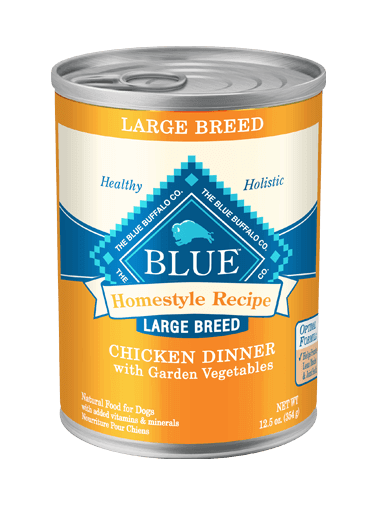 Price: £92.29 for a pack of 12
Containing healthy natural ingredients such as de-boned chicken, carrots, sweet potatoes and whole grains such as brown rice, this dog food provides your pet with the necessary amino acids and complex carbohydrates needed to remain healthy everyday. With no by-product meals, wheat, soy or artificial preservatives, you can guarantee an entirely natural dose of nutrients to keep your dog active and strong.
Price: £10.79 for pack of 8
Among the many flavors offered by Beneful's chopped blends, this lamb, brown rice, spinach, carrots and tomatoes blend is not only delicious for every dog but also contains no artificial flavoring or preservatives! With its natural selection of nutrients coming from real ingredients and with the addition of wholesome greens, this food is guaranteed to give your dogs the proteins they require to grow and stay healthy.
Overall
Giving your pet a balanced diet which contains both dry and canned dog food is essential in maintaining overall health and satisfaction. Consult your vet regarding the feeding times and portions for your dogs as it varies depending on the sizes, breeds and ages of your dogs.