Your canine friends deserve the best dog beds to feel comfortable, luxurious and happy when they go to take a nap, after all your dog's bed is more than merely a bed, it is their throne!
Pamper your pet with this selection of stylish and comfortable dog beds, gathered from a range of stores to give you the top 5 best dog beds in the UK!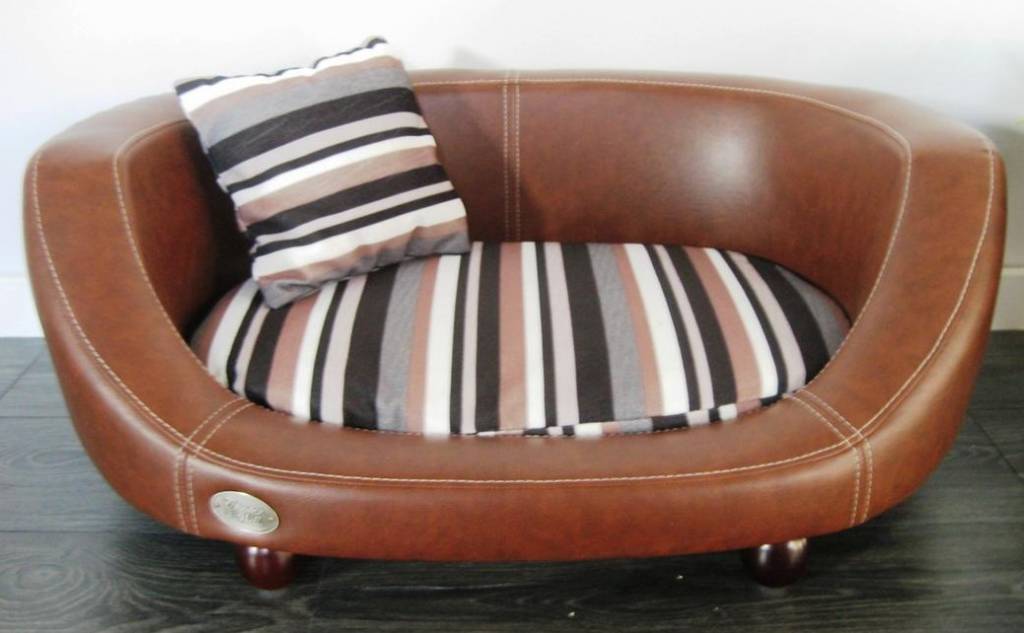 This luxurious leather bed would be a perfect throne for your pooch! The smooth brown leather would fit perfectly in any living room space, coming with stylish coloured stripes to add a little fun to your dog's bed! Crafted for maximum comfort with an overall practical form, this bed allows easy access for dogs of all sizes and makes your dog feel like the king or queen of the house!

This luxury wooden dog bed is the ultimate in dog bedding! Not only is it designed carefully to support your dog with maximum comfort, but your dog will sit on a raised platform, making them feel all the more important and special! The clean soft finish of this bed makes it look grand in any setting, with the raised sides allowing for complete safety for you sleeping canine! Make it all the more special by personalising it especially for your dog, and watch your dog have the best sleep of their life on their very own luxury bed!
This comfy dog bed is designed not only for your pet's comfort but also as a way to ease their stress and anxiety, leaving them feeling safe and secure! Through its nestled and enclosed form, the bed is designed to hold onto your dog and provide them with feelings of security and safety, so that even when you're not around, your pup can cuddle in their bed in utmost peace! Moreover, the bed is filled with Orthopedic memory foam, meaning it will adjust to your dog's body and provide exceptional support as they lay down or sleep!
These luxury donut beds are made from only the most comfortable and soft fleece material to keep your dog cosy and happy! The bed's outer material is made from grey faux suede, which coordinates beautifully as a piece of furniture anywhere in your house. The bed is made to hug your dog as they sleep, giving them maximum comfort and safety even if you re away! Moreover, make this adorable gift even more special by adding your pet's name to it, making their throne all the more unique to them!
This sumptuous larger than life dog bed is perfect for houses with more than one canine friend in the family! This sofa is designed for maximum quality and comfort for your dogs and can be added to any living space as a piece of home furniture made especially for your pets! The sofa comes in many different designs and colours, as well as different options for the sofa's filling! Change and alter this beautiful piece to suit your and our dogs needs, and give them a grand place to rest their heads at night!
Still looking for more?
If you are eager to look for more fabulous beds for your dog, we offer a range of unique and different luxurious beds at our store! From personalised beds, waterproof beds, snuggle dog beds and more! Take a look at all of the beds available here and choose the one which would make your dog feel comfortable and fancy!